Would you like to enjoy a variety of dishes that are not only exquisite but also healthy?
It's not impossible… if you try Mediterranean cuisine!
Our Mediterranean restaurant transports you to the shores and picturesque landscapes of the Mediterranean, which has one of the healthiest and most delicious foods in the world.
Here, we'll discuss the richness and benefits of this cuisine as a way to invite you to embrace a healthy and delightful way to eat.
Discover the Richness of Mediterranean Cuisine
Mediterranean cuisine is mainly based on fruits, vegetables, whole grains, legumes, nuts, and olive oil, with a moderate intake of fish and poultry, and a low intake of red meat and processed foods.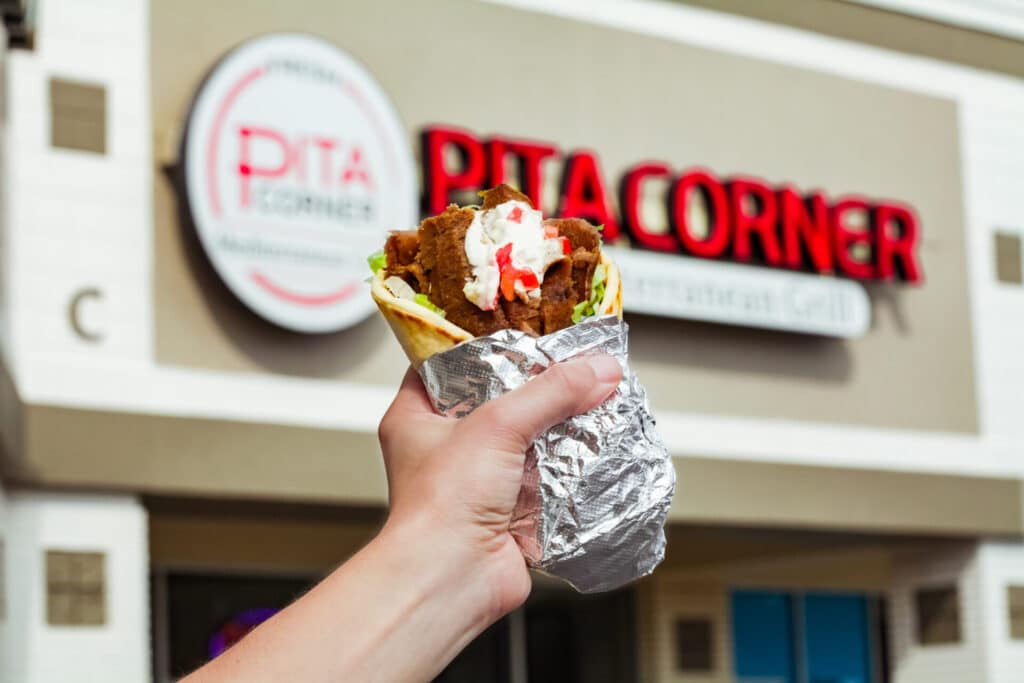 The Mediterranean region includes a wide variety of cultures, such as Greek, Italian, French, Spanish, Lebanese, Israeli, Turkish, and Egyptian. So, their cuisines include very different dishes with similar ingredients, for example:
Greek Food
The hallmarks of Greek cuisine are olive oil, fresh herbs, and tangy feta cheese; and it also includes vegetables, grains, fish and meat, pasta, and yogurt.
It uses seeds and nuts in different dishes as well as in desserts, and flavorings such as cumin, oregano, garlic, onion, and mint.
Filo pastry, with its origin in Greece, is used to make pastries such as spanakopita (spinach and cheese pie).
Lebanese Food
Lebanese cuisine mainly includes whole grains, fruits, vegetables, and seafood. Lamb, goat, and poultry are quite common, although the latter is eaten more often than red meat.
Garlic, chickpeas, parsley, lemon juice, and, of course, olive oil are very used to prepare their dishes, which are often eaten with flatbread like pita.
Some of the most popular Lebanese dishes are hummus, baba ganoush, tabbouleh, falafel and shawarma.
Italian Food
Italian cuisine, one of the most famous worldwide, uses few ingredients prioritizing their quality. It mainly includes pasta, fish, fruits, vegetables, and cheese.
Pizza and pasta are tremendously popular internationally, as well as risotto and lasagna.
Desserts are usually made with sweet cheeses like mascarpone and ricotta, pistachio, almonds, cinnamon, cocoa, vanilla, and citrus fruits.
Some of the top choices among Italian desserts are gelato and tiramisù.
Spanish Food
Spanish cuisine includes fish and seafood, lamb, chicken, and pork. It uses oregano, rosemary, parsley, thyme, paprika, saffron, and garlic, as well as olive oil to prepare many vegetable sauces.
Like Italian cuisine, it emphasizes on quality ingredients and simple cooking techniques, searching for a delicate balance between savory and tangy flavors.
Some popular Spanish dishes include paella, tapas, and gazpacho.
At our Mediterranean restaurant, we take pride in offering you an authentic culinary experience completely based on this incredibly delectable cuisine, such as shawarma, gyro, kabob, falafel portobello mushrooms, baba, and hummus.
The Authentic Mediterranean Experience: A Gastronomic Delight in Pita Corner
Here at Pita Corner, the essence of Mediterranean flavors comes to life through traditional recipes and authentic dishes, which have been passed down through generations.
All of our dishes are carefully handcrafted by our chefs, who are passionate about preserving the authenticity of Mediterranean cuisine.
The boldness of our fresh ingredients is another of the features that sets our restaurant apart. Together with our reliable suppliers, we only select the finest quality ingredients in order to offer our customers the highest experience.
Our menu offers a wide array of dishes, from kafta kabob and Greek specialties like chicken gyro to vegan dishes like falafel.
Ambiance and Decor: Transporting You to the Shores of the Mediterranean
Our restaurant's welcoming and relaxed atmosphere, with the warm colors and textures of our coastal-inspired decor, will definitely transport you to the pleasant Mediterranean environment.
And if you prefer dining al fresco, we offer outdoor seating options with comfortable patio tables and umbrellas surrounded by lush greenery.
Besides, our friendly staff is always dedicated to ensuring that you and your family and friends are totally satisfied.
We are available everyday from 11am to 9pm at 911 Duluth Hwy, Lawrenceville, GA.
An Array of Mouthwatering Dishes in our Mediterranean Restaurant
Our menu includes a wide selection of mouthwatering Mediterranean appetizers and main courses:
Shawarma
Shawarma is a popular Middle Eastern meal that originated in the Levant region. 
It's typically made of sliced marinated meat (like lamb, chicken, or beef) and served in a flatbread or pita with various accompaniments.
For those seeking a taste of tradition, our steak shawarma and chicken shawarma are a must-try.
Kabob
Kabob (or Kebab) is another popular Middle Eastern meal that consists of skewering and grilling meat on a stick. The ingredients can vary from region to region, but in general it includes fish, lamb, or beef meat.
We offer you a variety of kabob dishes including steak kabob, kafta kabob, shrimp kabob, and chicken kabob to enjoy the delicious smoky aroma and bold flavors of the grill.
Gyro
Gyro is a Greek dish made of sliced meat (lamb, beef, pork, chicken) and it's served in a pita bread with ingredients such as tomato, onion, and sauces like tzatziki.
Our lamb gyro and chicken gyro are very popular among our customers.
Portobello
Portobello are a variety of mushrooms commonly used in Mediterranean cuisine. They are meaty, with a dense texture and savory flavor, so they are often used as a meat substitute.
If you are vegan or would like to try new flavors, don't miss our dishes with portobello mushrooms.
Falafel
Falafel is a deep-fried ball or patty made from ground chickpeas or fava beans, mixed with spices and herbs, often served in a pita.
Its exact origin is debated, but it's closely associated with Middle Eastern and Mediterranean cuisines.
Our falafel dishes include turnips, tomato, lettuce, parsley, pickles, tahini sauce, with a fresh side such as rice, French fries, hummus, and more.
Hummus
Hummus is a creamy dip made from mashed chickpeas, tahini, lemon juice, and garlic typical of Middle Eastern cuisine.
It's a very versatile dish, so you can combine our exquisite hummus with many of our dishes.
Baba ganoush
Baba ganoush is a traditional dip in Middle Eastern cuisine made from roasted eggplant, tahini, garlic, lemon juice, and olive oil.
We recommend that you enjoy our baba tray served with pita bread with family and friends.
Fattoush Salad
Fattoush is a Middle Eastern salad that typically includes vegetables such as tomatoes, cucumbers, and radishes, toasted or fried pieces of pita bread, and an olive oil and sumac dressing.
This is a must-try for our vegetarian customers.
Tabouli
Tabouli or Tabbouleh is a traditional salad in Lebanese and Syrian cuisines made of chopped fresh parsley, tomatoes, mint, onion, and soaked bulgur, seasoned with olive oil and lemon juice.
This is another hit among our vegetarian customers.
Celebrating Healthy Eating: The Benefits of a Mediterranean Diet
Since the Mediterranean diet is a healthy-eating plan focused on plants and nutritious ingredients such as olive oil, fruits, vegetables, whole grains, legumes, nuts, herbs, and spices, we not only deliver wonderful dishes but also promote healthy eating.
In fact, research has shown that the Mediterranean diet has various health benefits, including:
Lower risk of heart disease (thanks to heart-healthy fats)
Lower risk of diabetes
Lower risk of certain cancers
Healthy aging
Lower risk of cognitive decline
Healthy weight loss (in conjunction with caloric restriction)
Besides, foods like fruits, vegetables, nuts, and whole grains contain antioxidants that can help combat cell stress.
Clearly, Mediterranean balanced meals like our dishes satisfy the palate while ensuring well-being. So, when you dine with us, you're not just enjoying a delicious meal; you're also making a choice for a healthier lifestyle!
Catering Services for Unforgettable Events: Bringing Deliciousness to Your Celebrations in our Mediterranean Restaurant
Beyond our beloved restaurant, Pita Corner offers catering services designed to make your celebrations truly unforgettable. Yes! You can also enjoy our catering services for events with a Mediterranean twist.
Imagine your event, whether a birthday party or a large corporate event, infused with the unique and delicious flavors of the Mediterranean: hummus and baba trays, sampler trays, and protein options like chicken and shrimp kabobs.
Besides, you can please the palates of your guests with peace of mind. Our chefs use the freshest ingredients and follow traditional recipes to replicate the same flavors and quality that you'd find in our restaurant.
But a successful event is about more than just the food. Our catering team takes care of every detail, ensuring that your event is a seamless and memorable occasion.
So, if you're planning your next celebration, contact us and ensure a delightful journey through Mediterranean cuisine.
Conclusion: Immerse Yourself in a True Mediterranean Feast at Our Restaurant
Here at Pita Corner, we want you to discover that the Mediterranean is not just a place on the map.
That's why we take the essence of the Mediterranean and commit to creating balanced meals that not only please your senses but also promote well-being.
We look forward to seeing you at our restaurant and sharing the magic of Mediterranean cuisine with you!