Looking for a twist that will take your burger cravings to new heights? Well, there's nothing quite like the pita burger combo. 
This unique twist on a classic meal is a game-changer in the world of gourmet burger combos, offering a mouthwatering experience you won't soon forget.
Join us on this tour through the world of pita burger combos, exploring delicious recipes, flavorful ingredients, and endless customization options. Plus, we'll help you make the perfect pairing with a side dish that complements this delectable creation.
Discover the Mouthwatering Delight of a Pita Burger Combo
Of course, burgers rank high on everyone's comfort food list. But there are times when we just want to spice things up a bit.
So, if you're tired of the same old burger routine, it's time to delve into the world of pita burger combos. This unique burger combination takes the classic patty and bun to new heights, offering a delightful twist that will leave your taste buds singing.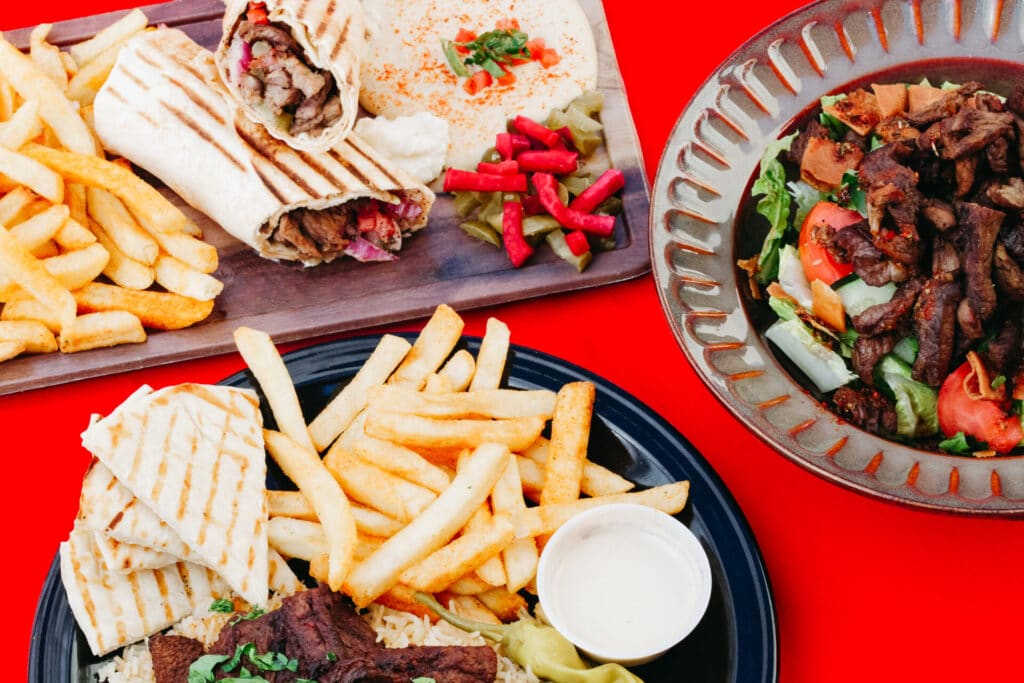 Imagine biting into a soft, pillowy pita bread that cradles a juicy beef patty cooked to perfection. The union of textures and flavors of a pita burger recipe is an art form in itself, and this is just the beginning.
Unlike any burger you've tried before, this gourmet burger combo features a carefully crafted combination of ingredients and toppings that come together to create a mouthwatering delight.
The Perfect Blend of Flavors: Exploring the Ingredients in a Pita Burger Combo
One of the most exciting aspects of the pita burger combo is the opportunity for customization. Of course, the magic begins with the pita bread, the one that offers that soft, pillowy texture (all that our juicy beef patty deserves). 
But the game starts with toppings. Consider these creative burger customization ideas to make your Pita Burger Combo truly yours.
Flavorful Toppings: Elevating the Experience

A Pita Burger Combo wouldn't be complete without its array of flavorful toppings. Fresh and vibrant vegetables, crisp lettuce, ripe tomatoes, and perhaps some red onions, all work together to add a burst of freshness and texture to every bite.
And let's not forget the creaminess of avocado, or the crunchiness of bacon. Adding avocado or bacon for extra indulgence can never go wrong. Also, for spicy food lovers, just spice it up with jalapenos or hot sauce. Basically, the world of savors is in your hands.
Special Sauce: The Unique Twist
The special sauce is where the Pita Burger Combo takes a creative turn. This sauce adds a unique and exciting twist to the burger's taste.
Think of blends of herbs and spices, zesty aioli, spicy chipotle dressing, truffle infusion, tahini or even the unique sweet and savory BBQ. 
Whichever path you choose, the sauce is the element that ties everything together, making each bite an adventure for your taste buds.
Cheese Options: A World of Possibilities
Like so many other things in life, the pita burger combo is complete with a fine cheese selection. 
You could go for the gooey goodness of melted cheddar, the creamy delight and complexity of blue cheese, or the sharpness of Swiss, the choice is yours.
The cheese adds depth and richness to the overall flavor profile, making it an essential component of this unique burger.
Vegetarian Patty Options: A Meat-Free Marvel
From a good spiced black bean burger, to a portobello mushroom cap or a quinoa and chickpea patty, all the way to the sweet potato and pea burger.… these veggie burger options are designed to cater to different tastes and dietary preferences, providing a guilt-free indulgence that doesn't compromise on taste.
Pita Burger Combo: The Ultimate Choice for Health-Conscious Foodies
Pita burger combo can be a healthier burger alternative that provides a guilt-free indulgence. With whole grain pita bread options and lean protein sources, you can savor the flavors without compromising your wellness goals. 
Also, fresh and nutritious toppings add a burst of vitality to your meal. Think crunchy kale, sliced avocado, and ripe tomatoes, all drizzled with a light vinaigrette. This combination not only adds vitality to your meal but also provides essential vitamins and antioxidants.
Don't deny yourself that comfort food you need, with a pita burger combo well assembled, you can savor the perfect balance between taste and nutrition.
A Perfect Pairing: Choosing the Ideal Side Dish to Accompany Your Pita Burger Combo
We already know that the pairing does it to perfection, so it's equally crucial to select the ideal side dish that complements this delectable creation. Here are some appetizing options to consider:
Fries or Sweet Potato Fries?: The Classic vs. The Sweet Indulgence
If you're in the mood for classic, crispy, and golden fries, they make a perfect sidekick to your pita burger combo. The familiar, salty goodness of classic fries offers a satisfying contrast to the unique flavors of your burger.
On the other hand, if you're looking for a sweet and slightly healthier alternative, opt for sweet potato fries. Their natural sweetness and rich flavor provide a delightful contrast to the savory goodness of your Pita Burger Combo, and they offer an extra dose of fiber and vitamins to your meal.
Side Salad with Vinaigrette Dressing Option: Freshness on the Side
For those who desire a lighter option, a side salad with vinaigrette dressing is a refreshing choice. The crispness of fresh greens and the tang of the vinaigrette add a burst of vitality to your meal, balancing the richness of the burger.
Choose from an array of fresh vegetables, such as mixed greens, cherry tomatoes, and cucumber, and pair them with a zesty vinaigrette. It's an option that rejuvenates your palate while complementing the bold flavors of your Pita Burger Combo.
Onion Rings for an Extra Crunch Factor: Crispy Delights
If you're in the mood for an extra crunch factor, indulge in some crispy onion rings.
The crispy, golden exterior and the sweet, tender onion within provide an irresistible crunch and a touch of sweetness that harmonizes with the flavors of your burger.
With this finishing touch you will have a complete and satisfying meal. In the end, it's all about customizing your pita burger combo experience to perfectly match your taste buds.
Conclusion: Treat Yourself to an Unforgettable Culinary Experience with a Pita Combo Today!

So, here's the thing. We all deserve a nice burger to warm our hearts with a comforting movie in the background. And yes, we can all get bored sometimes too, but luckily we have soft pita bread to save us.
Then, why wait? Choose your film for pairing and treat yourself to an unforgettable culinary experience by elevating your burger game with a pita burger combo today.